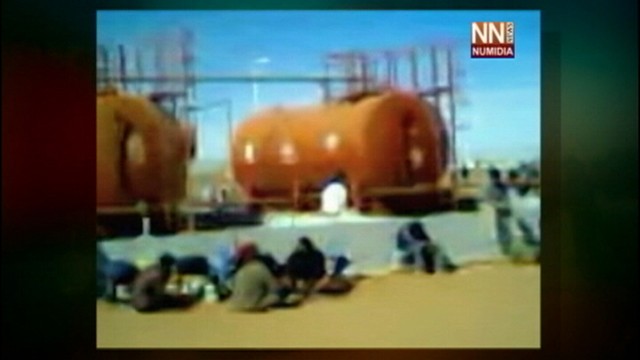 In addition to dramatic survivor accounts of the Algerian hostage crisis, a trove of video footage apparently shot by the hostages themselves is providing a direct look inside the terrorist operation and possibly invaluable intelligence on the perpetrators.
The videos, which have emerged on Algerian television over the past 48 hours, capture a range of moments from the four-day ordeal — from tense images of hostages sitting in groups to gruesome footage of an execution by bodybomb. One tape catches snippets of negotiations between the Algerian military and the al Qaeda-linked terrorists that stormed the BP joint venture facility last week.
As described by Algerian news reports, another shows a terrorist carrying an explosive belt with a car battery between his thighs and two wires in his hands — ready to detonate his bomb when the Algerian army attacks. Algeria's Ennahar TV reported that the execution of several foreign hostages by terrorists was also caught on tape.
One video, perhaps shot by the Algerian military after they retook the facility Saturday, shows destroyed vehicles and dead men that are identified in Algerian news reports as terrorists.
According to Ennahar TV, still and video images also captured the leader of the hostage-takers on the ground, Mohamed Lamine Ben Shanab, as he spoke on a satellite phone. He is shown wearing a green military uniform with explosives wrapped around his body and carrying a Kalashnikov rifle. Ben Shanab was one of the 29 terrorists killed by the Algerian military before the crisis was over — reportedly felled by a sniper's shot. The al Qaeda-linked group's overall leader, Mokhtar Belmokhtar, was not present for the operation, but released a video claiming it on behalf of al Qaeda.
Most of the on-scene videos seem to have been recorded by Algerian hostages, who were reportedly separated from their foreign colleagues at the outset of the terrorist attack. A statement made by the terrorists during the crisis indicated they were interested in using the foreigners as bargaining chips to stop the recent French-led intervention in Mali and that anyone identified as a Muslim Algerian would be kept safe.
Richard Clarke, former counter-terrorism advisor to the White House and current ABC News consultant, said that while it is "highly unusual" for hostages to be able to film so much, it's also a potential boon for U.S. and allied intelligence agencies.
"U.S. intelligence will be poring over the videos, trying to reconstruct the hostage-taking and the Algerian military raids," Clarke said today. "They will also be trying to do facial recognition of the terrorists to see if we have any files on them under any names or noms de guerre."
'To Hell and Back'
In an audio recording that emerged on Algerian television, another of the terrorists on the ground specifically threatens the U.S. citizens.
"The Americans that are here, we will kill them," said Abdel Rahman el-Nigeri, the man who Algerian media said took over after Ben Shanab was killed. "We will slaughter them."
The State Department identified three Americans as among the more than three dozen hostages killed before the crisis was over: Victor Lynn Lovelady, Gordon Lee Rowan and Fred Buttaccio. Seven other Americans escaped.
Lovelady's daughter, Erin, said that her father always said he felt "so safe" working in Algeria.
Algerian Hostage Tapes: Inside Intel on… – ABC News
http://news.google.com/news/url?sa=t&fd=R&usg=AFQjCNHCIveL0gDSuESPY3TLs54sf7O3Nw&url=http://abcnews.go.com/Blotter/algerian-hostage-tapes-inside-intel-terror-attack/story?id%3D18283402
http://news.google.com/news?pz=1&cf=all&ned=uk&hl=en&topic=h&num=3&output=rss
Top Stories – Google News
Google News
http://www.gstatic.com/news/img/logo/en_uk/news.gif