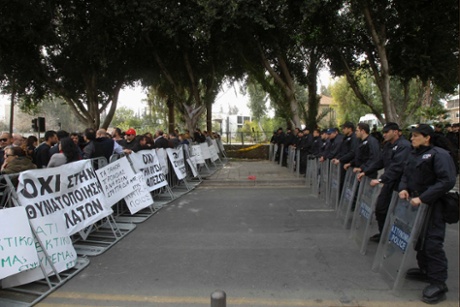 Time for a catch-up of the main developments in Cyprus so far today:
• Cyprus has warned that its future would be decided on Friday as frantic negotiations with international lenders continued.
Government spokesman Christos Stylianides said the Cyprus parliament had just a few hours to take tough decisions to save its economy and banking sector, and avoid 'social misery'.
Stylianides told reporters in Nicosia:
In a few hours we will be called upon to take the big decisions and reply to the hard dilemmas.

The next few hours will determine the future of this country. We must all assume our responsibility.
• The Cyprus parliament has twice delayed a planned vote on the rescue package hammered out by Cypriot leaders yesterday. The debate was due to start 6 hours ago, but is in limbo as frantic behind-the-scenes talks continue.
• Government insiders have told us the plan could dramatically change again, and include a tax on savers. (see here)
It appears, though, that Cyprus would spare those with less than €100,000 in the bank.
• According to Bloomberg, rich depositors (with over €100k) at Cyprus's two biggest banks could suffer losses of up to 40%. (See here)
• Russia has declined to offer fresh support to Cyprus, following the finance minister's two-day visit to Moscow. Talks are over, according to the Russian finance minister
• Germany's chancellor, Angela Merkel, has voiced her opposition to Cyprus nationalising pension funds to fund its €6bn portion of its bailout. Merkel told her MPs that Cyprus had to realise that its business model was dead (more here)
• Details of Cyprus's plans for capital controls have emerged. They include dramatic restrictions on Cypriots and businesses in the country, including:
* unspecified limits on daily cash withdrawals,
* a total ban on accessing cash in 'timed' savings accounts,
* limits on cashing cheques, and
* restrictions on movements of capital, payments, and transfers.
The full grim details are here
• And outside the Cyprus parliament, demonstrators continue to protest (photos here)
Cyprus crisis: Government says deal could come within hours – live – The Guardian
http://news.google.com/news/url?sa=t&fd=R&usg=AFQjCNHShNFeQioTlJ0rhEjoktV4P5qpPw&url=http://www.guardian.co.uk/business/2013/mar/22/eurozone-crisis-cyprus-bailout-russia-vote
http://news.google.com/news?pz=1&cf=all&ned=uk&hl=en&topic=h&num=3&output=rss
Top Stories – Google News
Google News
http://www.gstatic.com/news-static/img/logo/en_uk/news.gif