Hello, and welcome to the Guardian's coverage of the state funeral of Hugo Chávez, the Venezuelan president who died on Tuesday after a two-year battle with cancer.
At least 33 leaders from five continents – including Cuba's Raul Castro, Iran's Mahmoud Ahmadinejad, Bolivia's Evo Morales, Argentina's Cristina Fernandez, and Belarus's Alexander Lukashenko as well as Brazil's Dilma Vana Rousseff and her predecessor Luiz Inacio Lula da Silva – are expected to attend today's funeral in Caracas, for which thousands of people are expected to line the streets.
This morning government officials were giving few details about where exactly the funeral would take place or the sequence of events, beyond saying it would start at 11am local time (4.30pm GMT).
Hundreds of thousands lined up yesterday to see Chávez's body, dressed in military uniform and red beret, in a coffin at the military academy in Caracas.
Chávez will lie in state for seven more days to allow more members of the public to view it. His body will then be embalmed and put on display in a crystal urn in an as-yet-unbuilt Museum of the Revolution in Caracas – "like Ho Chi Minh, like Lenin", as Nicolás Maduro, Venezuela's vice-president, put it.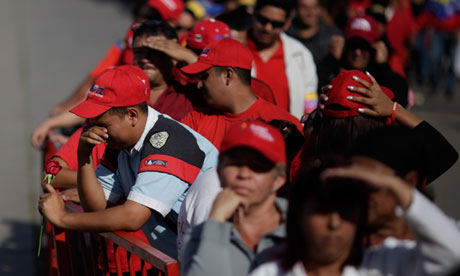 Maduro will be sworn in as acting president today following the funeral. An election is then due within 30 days. Maduro is expected to face opposition candidate Henrique Capriles, a young centrist state governor who lost to Chávez last October. Maduro will probably be carried to victory on a wave of post-Chávez sympathy and grief.
A power struggle between Maduro and Diosdado Cabello – the president of the national assembly and a former military officer thought to wield power within the armed forces – now looks unlikely. Cabello – who constitutionally should have become acting president himself – yesterday called for an extraordinary session of the assembly for the swearing in of Maduro to that role, suggesting that he would not be challenging him for the presidency.
Chávez's emergency cancer surgery in Cuba in December was the Venezuelan president's fourth round of surgery for the disease, following his shock announcement in June 2011 that he was recovering from an operation to remove an abscessed tumour with cancerous cells the size of a baseball from his pelvic region. The exact form of cancer was undisclosed (and remains so) and the next month he returned to Cuba for further treatment.
Chávez announced he had fully recovered in July 2012, three months before the Venezuelan presidential election, which he won. But he returned to Cuba in November for hyperbaric oxygen treatment and then again for a further, six-hour operation on 11 December, after which the Venezuelan government said he had suffered from bleeding that required "corrective measures" and then a respiratory infection.
Chávez had dominated the Venezuelan political scene since 1998, when he was first elected president – six years after failing to take power in an attempted coup.
His "Bolivarian, 21st-century socialist" rule of the oil-rich country made him a hero to Venezuela's poor, improving healthcare and literacy and slashing poverty, and he became one of Latin America's most charismatic and well-known leaders, helping neighbours with subsidised energy and establishing himself as one of the most outspoken critics of the US, especially under George W Bush.
Critics called him an authoritarian and attacked his curbs on the media, support for international pariahs such as Robert Mugabe, Muammar Gaddafi and Bashar al-Assad, and failure to maintain Venezuela's infrastructure.
We'll be following all the developments here throughout the day as his funeral takes place.
Hugo Chávez funeral – live coverage – The Guardian (blog)
http://news.google.com/news/url?sa=t&fd=R&usg=AFQjCNFKe7XaB3jt9KztJuIF61LgRlkhbw&url=http://www.guardian.co.uk/world/blog/2013/mar/08/hugo-ch-vez-funeral-live-coverage
http://news.google.com/news?pz=1&cf=all&ned=uk&hl=en&topic=h&num=3&output=rss
Top Stories – Google News
Google News
http://www.gstatic.com/news-static/img/logo/en_uk/news.gif